Adding prices using Dynamic pricing
Below is a way of adding your prices on garment using dynamic pricing.
This section is found in each product's 'e-commerce' tab
Base price = RRP (inc tax) in eCommerce section of CPP.
Print Areas = Price Per Print Area in eCommerce section of CPP.
Left Breast = print area price field within each print area.
Size = Price for specific size from Attribute section
Colour = Price of specific colour from colour area section

Total amount is on top with name of product like you can see on the screen and also at the bottom.

If you decide to add SET UP cost this would display below and would be close to Total.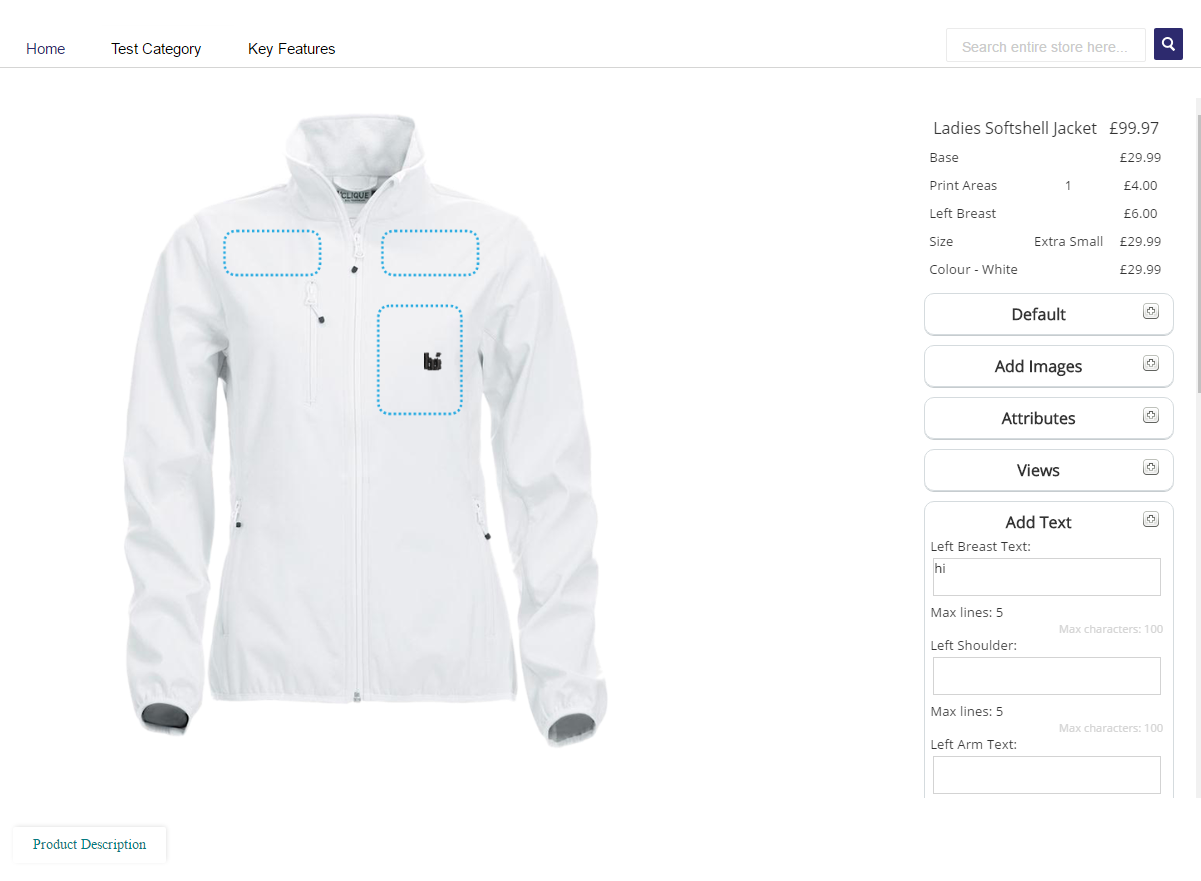 Additional Prices can be added to -
Print Area's
Text Area's
Image Area's
and Effects - allowing different imprint methods to be charged at additional costs
Related Articles

KornitX Platform Imports & Exports - How To Set Shopify Pricing Beta

This article will be cover the options available to add pricing information to products so that they work within the Shopify app. Pricing can be set manually or via a dedicated CSV data Import. Everyone who wishes to load their products within ...

KornitX Platform Imports & Exports - Legacy Tier Prices

What Is Legacy Tier Pricing Data? Legacy tier pricing data is the legacy import to use for adding pricing to products that exist in Platfornm. It is incredibly important for yourself and retailers that every product that you set up in CPP contains at ...

Case Study | Dynamic Designs

Overview Dynamic Designs (aka DD) is an exciting feature that serves to simplify and expand upon the tool-set available for creating Customisable and Personalised Products. Conventionally, Blank (Base) Products are configured on the platform, and ...

Setting Up Dynamic Pricing in Magento

Dynamic pricing can either be set in your Gateway CPP Admin Panel > Customisable Product Management or as Custom Options in Magento The article below explains how to set up the options in Magento using custom options Please note you must copy the ...

Adding VPC Designs directly using PSD Import

Overview Designs can be imported directly to VPC Designs without the need to create a Virtual product at the same time. The benefit to this approach is that it allows the creation of a large library of designs, which can then be used to create ...